The Obamas continue to inspire  the green revolution on the American homefront.
First lady Michelle Obama broke the ground today on a new garden near the fountain on the South Lawn that will supply the White House kitchen. She was joined by students from Bancroft Elementary School in the District of Columbia. The children will stay involved with the project, including planting the fruits, vegetables and herbs in the coming weeks and harvesting the crops later in the year.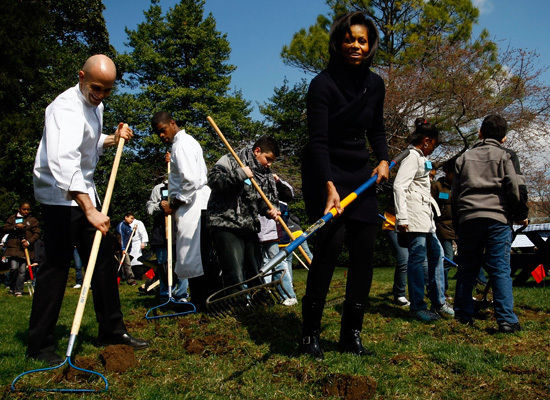 INSPIRED BY THIS?
READ THIS quick guide to growing your own food.
KITCHEN GARDENING TIPS
1. Tap into your community. People around you can help answer questions specific to your area. Ask at your local nursery or farmer's market about what will grow well in conditions you have access to — and make sure it's something you'll actually eat!
2. Start small. If you've never gardened before, or if you don't have much room to work with, try this great guide to growing strawberries at home.
4. Composting helps your plants, helps you connect to nature and helps cut down on waste! There are tons of guides to this. Try starting here.
5. If it's still too cold where you are, you can start your plants indoors — and you can even use the help of ultra-efficient LED lights.
And Treehugger has a whole set of gardening tips directed at the Obamas, too!
These extracts were printed on 20th March in:http://www.huffingtonpost.com/thenewswire/