The most interesting piece of this article for me is that the Guardian decided to lead with a picture and caption that sums up exactly what Global Gardening is all about.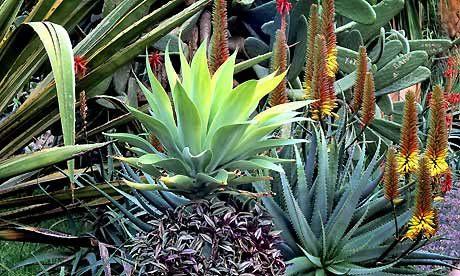 Drought-resistant plants such as these in the Majorelle gardens in Marrakech, Morocco, would become more common in British gardens. Photograph: Clay Perry/Corbis
http://www.guardian.co.uk/environment/2008/aug/06/climatechange.scienceofclimatechange
UK gardens are already being affected by climate change. We need to help them adapt by considering new types of plants – visit the Plant Pages on the Hom Page for inspirational ideas.
The Jardin Majorelle is a truly inspirational garden with amazing specimens of drought resistant plants set in a stunning design. It was restored in 1980 by one of the world's greatest fashion icons – Yves St Laurent. Here is a larger view of the spectacular planting . Not sure UK gardens will end up looking like this but it is a great place for ideas – especially for Australian gardens who are expereiencing serious drought issues.
Visit http://www.jardinmajorelle.com/