Cities such as Melbourne, New York, Berlin and London are reporting a huge increase in the number of bee hives.  All over our cities, on office rooftops, in parks and allotments, and in school grounds and urban backyards, bees are buzzing.
In just three years, membership of the British Beekeeping Association has doubled to 20,000, as young, urban dwellers transform a rather staid pastime into a vibrant environmental movement.
Many of London's most famous landmarks such as Buckingham Palace, Tate Modern and Fortnum & Mason now house bee hives.
Discover how to keep bees in an urban environment with this great book:
Bees in the City: The urban beekeepers' handbook by Brian McCallum, Alison Benjamin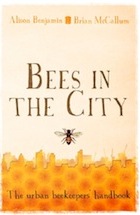 Buy it from the Guardian bookshop
http://www.guardian.co.uk/environment/2011/aug/07/urban-beekeeping