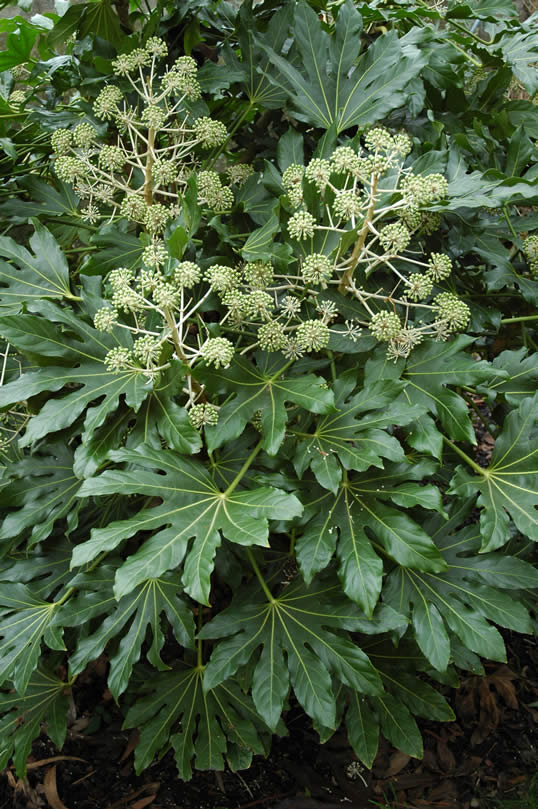 This is one of my favourite autumnal plants – Fatsia Japonica or the Caster Oil Plant.Check out this attractive and reliable evergreen shrub that offers something for the garden all year round –http://www.myclimatechangegarden.com/blog/false-castor-oil-plant-japanese-aralia
If you are looking for inspirational planting ideas there is an excellent event this weekend at Great Dixter. A chance to see this stunning garden  which is often at its very best in late Autumn.
Great Dixter Plant Fair
Saturday 2nd and Sunday 3rd October 2010
from 11.00am to 4pm
Entrance fee: usual rates to the Garden will include the Fair £7.00
Location: next to the Great Dixter Nursery
Over 10 nurseries from Europe and UK
Hans Kramer of Hessenhof; Jennie Maillard of Usual & Unusual Plants; Bob Brown of Cotswold Garden Flowers; Marina Christopher of Phoenix Plants; Graham Gough of Marchants Plants; Tony Dickerson of Westonbirt Plants; Derry Watkins of Special Plants; Van Poucke from Belgium; William Dyson of Great Comp; Ewald Hügin from Germany, Ylva and Liam Mackenzie of Madrona, Cookoo Box Chillies.
Launch of The Christopher Lloyd Student Bursary
The Great Dixter Charitable Trust sees the Bursary as a way of giving something back to the horticultural trade. It will create an opportunity for young gardeners to travel and work in interesting places, to widen their experience and gain inspiration from experts in this country and abroad.