President Obama is in London today to share his vision for how (and if!) we can dig our way out of an enormous economic hole.
Back home his fellow countrymen are also digging – in their gardens!

It seems Americans are taking note of their inspirational leader's self sufficiency at the White House and transforming their own gardens to grow vegetables and fruit .
The British have been a nation of allotment gardeners for centuries. Maybe Mr Obama would benefit from a few home growing tips from the Royal Horticultural Society https://www.rhs.org.uk/advice/profiles0304/allotment.asp
READ THIS ARTICLE PUBLISHED TODAY ON CNN
As American families try to stretch their food budgets during the recession, some are turning to the backyard, rather than the grocery store, as the place to look for produce.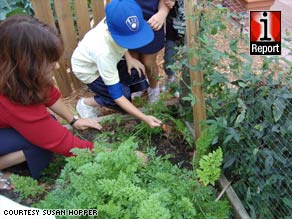 Recession gardens are catching on with many first-time planters who want a healthy meal at an affordable price.The gardeners are following seed-strewn paths laid by Michelle Obama and Eleanor Roosevelt, both of whom have used the White House lawn to show the value of a garden during tough times.
The scope of today's trend is shocking even to those in the gardening industry.
W. Atlee Burpee & Co., the largest seed and gardening supply store in the country, says it has seen a 25 to 30 percent spike in vegetable seed and plant sales this spring compared with last. "I've been in the business for 30 years, and I've never seen anything like it — even remotely like it," said George Ball, chairman and CEO of the company.
In 2008, there was a 15 to 20 percent uptick in seed sales because of high food and gasoline prices. Not since the '70s, when the company saw sales increases in the 10 percent range, has gardening seen such buzz, he said.
The National Gardening Association expects 43 million American households to grow their own fruits, vegetables, herbs and berries this year. That's up 19 percent over last year, according to a 2,559-household survey the group conducted in January. About a fifth of the gardeners this year will be new to the activity, the survey says. Most — 54 percent — said they will garden because it saves them money on food bills. A slightly larger group say they garden because homegrown food tastes better.
There's evidence that recession gardeners stand to see substantial savings at the grocery store checkout.Last year, Burpee released a report saying a family will get an average 25-to-1 return on its investment in a garden.By that count, a family that spends about $200 on a medium-to-large garden, as Michelle Obama reportedly did, will save $5,000 in grocery bills over the course of a year.
That statistic is inflated, said Mike Metallo, spokesman for the National Gardening Association.Metallo's group says a $70 investment in a garden will yield $600 in produce for the year.
To get those savings, a gardener has to know what to plant, when to plant it, where to plant it, how to deal with different soil types and how to care for the garden.That knowledge isn't innate these days, especially for urban dwellers.
Bobby Wilson, president of the American Community Gardening Association, says all of that interest is great, but he worries that Americans aren't equipped to grow their own food without some help.
"Many of the people that want to get into the gardening and greening movement right here have never gained the skills," he said. "Many of them came up in an era where there was no vocational education, so there was no need to learn anything about horticulture or agriculture."
In the process of digging back into the soil some new gardeners are struggling with the fact that they're several generations removed from a farm. Pamela Price, a 38-year-old mom in San Antonio, Texas, said her garden isn't profitable just yet because of droughts in her state. See Price's "victory garden" on iReport.com Pamela says she's started to look at her local environment anew as she learns which plants will or won't grow in the harsh climate. She should check out http://www.garden.org/zipzone/
Wilson, of the community garden association, said new gardeners should seek advice from neighbors. On every block, there's a gardener who is willing to talk about the process, he said.Face-to-face conversations are more helpful than Internet searches when it comes to learning about the local environment, he said.
One way to tap local garden knowledge is to join a community garden, where neighbors turn up communal plots together.This activity is expected to see a fivefold increase this year, with 5 million households saying they're at least "very interested" in participating in a community garden, said Metallo, of the National Gardening Association. "New gardeners should start out small," he said. "That way you'll learn as you go and won't get as frustrated.You don't have to go hogwild crazy," he said, adding that people who tear up their entire yards are usually disappointed. "Get comfortable with it."
The first step is to check what veg and fruit need planting in which month at:
http://www.gardenaction.co.uk/fruit_veg_diary/veg_planner.asp. This brilliant site lists the first and last frost for in your area and includes American cities.
Get to grips with maintaining a veg garden with this video from the National Garden Association of America: